How to Choose the Best Rug for your Airbnb
Jan 16, 2023
image above: Emily Henderson
If you've got hard floors in your vacation rental, you're going to need some rugs.
The floor covering is (literally!) a room's foundation, and a well-chosen rug can set the tone for the entire space. It can add color, tie in accent colors, or be a neutral force that allows other colors to pop. It adds texture and warmth underfoot, making a house feel more inviting and comfortable for your guests.
That's a pretty big job for one object, especially one that often comes with a big price tag. And because they will inevitably go under (sometimes dirty) shoes, you'll want to make smart, durable rug choices for your rental property.
So, let's discuss the smart way to buy rugs for your short-term rental...
image above: Rosa Beltran
Like I do for everything in life, let's break down rug buying into an easy list of categories to consider:
The 3 Attributes of Rugs:
1. Material
2. Colour & Pattern
3. Size & Position
---
1. Material
The material, or what your rug is made of, is important because it will directly impact its price and longevity. Below is a guide on popular rug materials and their qualities.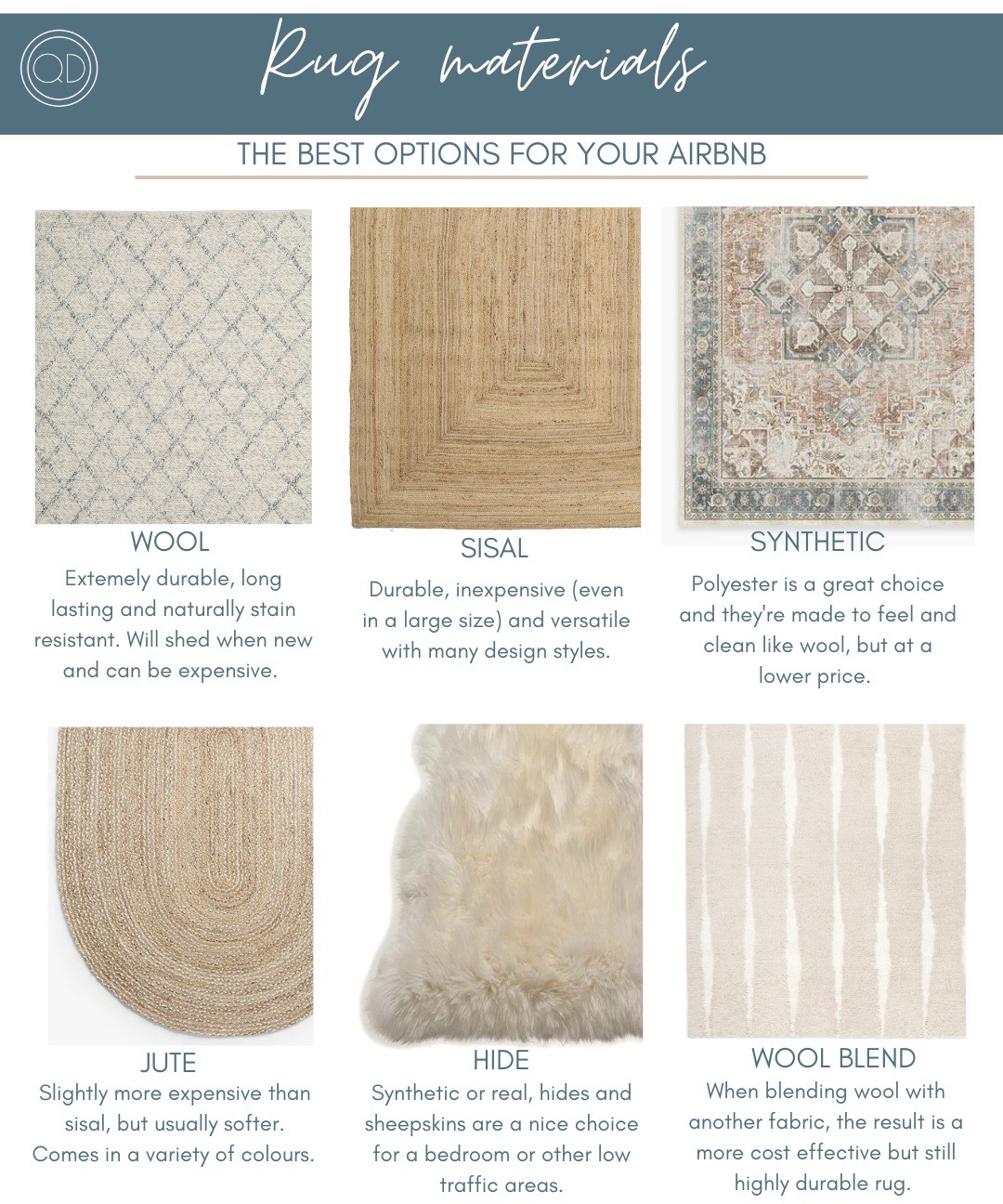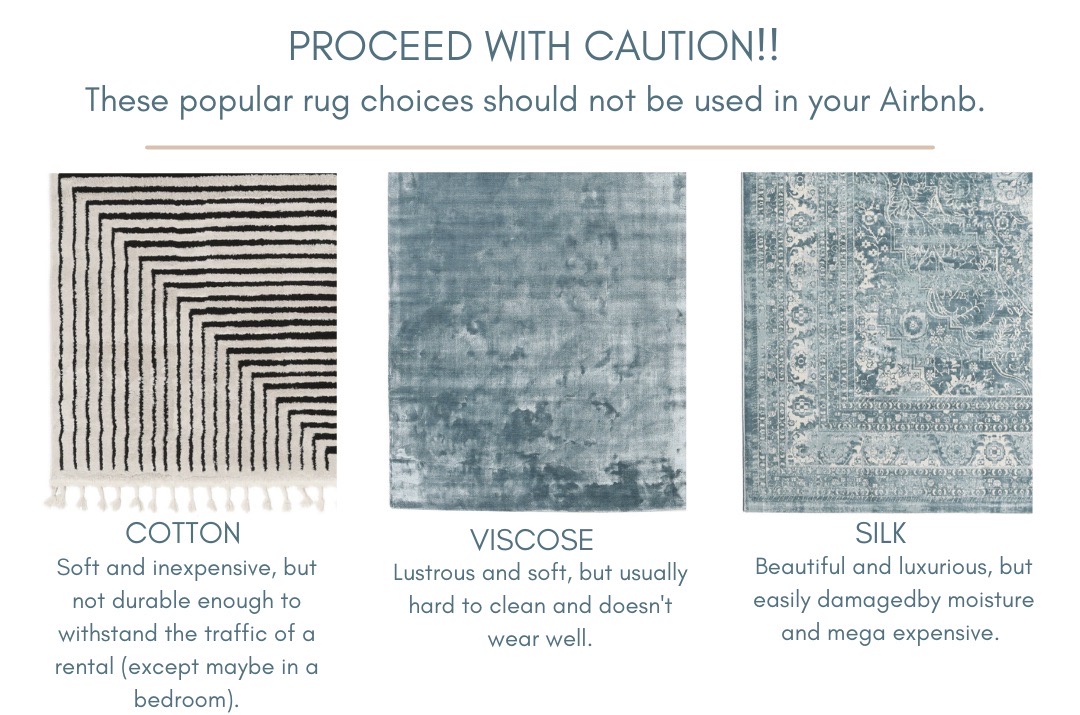 Wool is undoubtedly one of the best materials for rugs, but they can be pricey! However if you take good care of a well-made wool rug, it can last you almost a lifetime. Wool is extremely durable to abrasion, it cleans well, hides dirt, and it helps with temperature control by keeping cooler in the Summer and warmer in the Winter. Wool has pockets where dust and dirt can actually hide, but it also has a natural stain resistance. (Sounds like magic right?!)
If wool isn't on the cards for your budget, next to consider is a synthetic rug. They have become popular because of their similar look to wool, their clean-ability, and their lower price. Often, you'll see a synthetic fiber like polyester blended with wool to help with clean-ability but keep the cost down. These are a great choice for a rental property!
If you think investing in a quality rug sounds ideal, but you want to save money, you can try a layered look like in the image below. Go for an inexpensive sisal rug with a smaller wool rug on top.
image above: Rebecca and Genevieve
2. Color & Pattern
It goes without saying that you don't want to use a rug that's too light and going to show stains easily in your rental property. If you haven't explored any inspiration images yet, I'd highly recommend starting a Pinterest board to visually gather your thoughts in one place about the type of space you'd like to create.
Now look closely at what's going on on the floors of your favorite rooms in your boards... Is it a Moroccan shag rug? (For cleaning purposes, that's not ideal for a rental, keep looking!) Is it geometric or perhaps neutral colors? Is the rug the largest color block in the room keeping things tied together visually? How can you use these Pinterest inspiration images as a springboard to designing your space?
If you find Pinterest overwhelming (and, trust me, you're not alone!), try taking The Quill Decor Short-Term Rental Style Quiz. It's fast and free! This may help you to narrow things down and feel more focused. Once you feel good about a style genre you'd like to aim for, you can jump back over to Pinterest and search for more images specifically in that style.
When it comes to patterns, check out the graphic below for some of the most popular rug patterns and styles. Anything stand out to you? (Keep reading for the best sources for rugs like this!)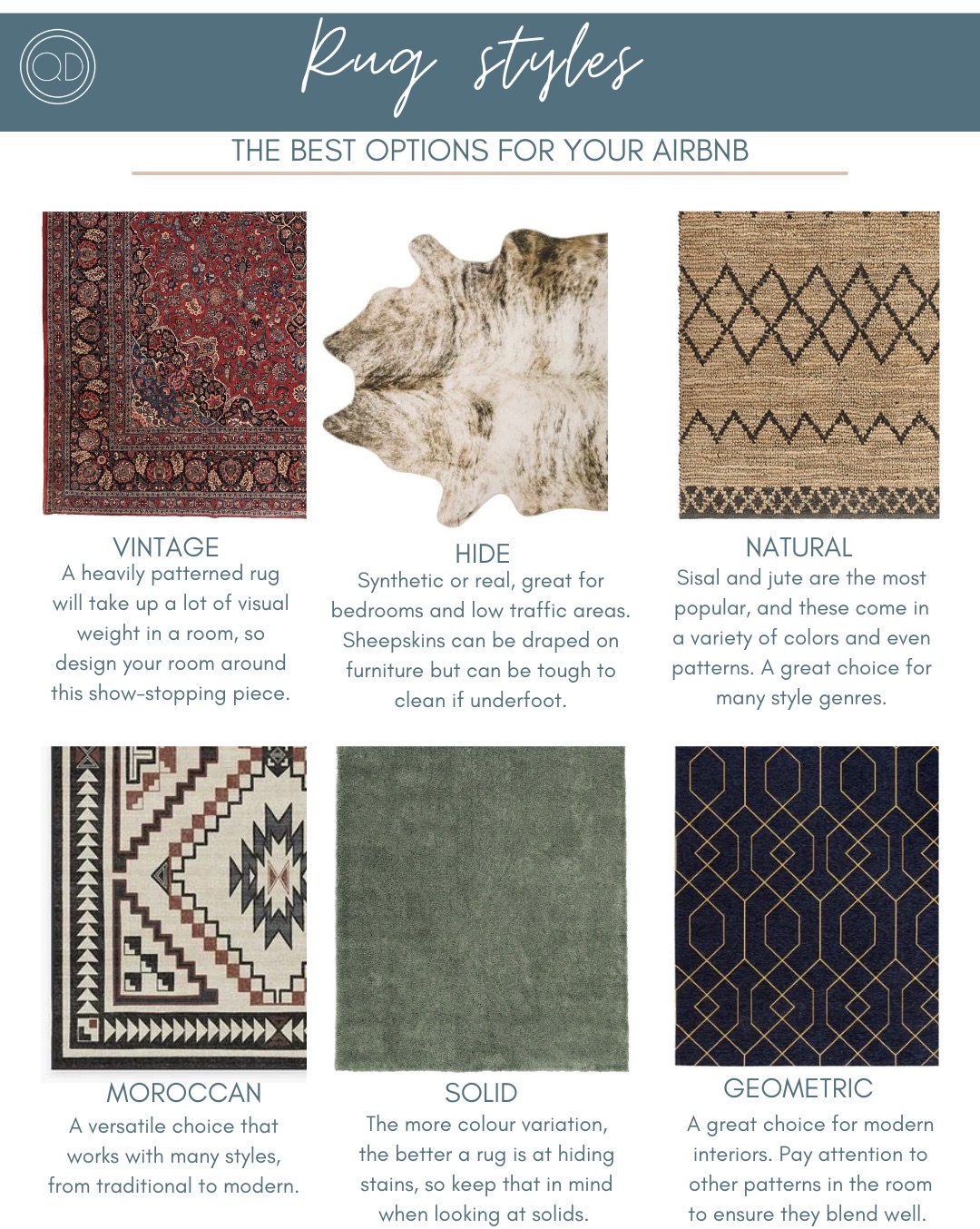 3. Size & Position
POP QUIZ: What rug no-no appears the most in short term rentals???
Rugs that are too small for the area they're in.
Sometimes, size does matter!! See here for more of my thoughts on this when it comes to lamps.
The easiest rule of thumb for a living room space is that the rug should be large enough that all the furniture pieces can have at least their front legs on the rug. This will instantly pull the room together and make the furniture feel grouped intentionally.
Also, it will keep the rug from moving around, especially if it's a lighter, flat-weave rug that travels across the floor easily. #annoying #triphazard
image above: Bryan Patrick Flynn
So, what if you don't want to draw a floor plan with your furniture? How do you figure out what size rug you need? One simple way is to outline an ideal rug size with painters tape onto your floor. Or... just get out your tape measure and figure it out that way. That's definitely easier!
8'x 10' is a good bet for most rooms, and most rugs come in this size!
image above: Bright Green Door
For dining rooms, the rug should ideally be large enough that when you pull your chair back it doesn't come off the rug. This is so that chairs can scoot in and out easily and not get stuck on the rug, pulling it up.
A general rule is to allow 24"-30" further from the dining table on each side. For example, a standard 70" x 36" dining table will require an 8' x 10' rug. I personally think it's okay to go a little bit smaller for this one if needed. But do make sure the chairs at least sit well within the rug when they're pushed in, or at very least you use a flat weave rug with a short pile height.
image above: Emily Henderson
Unlike elsewhere in your short-term rental, rugs in the bedroom don't need to be quite as durable, so you can go with a less expensive cotton or soft sheep skin. For placement, think of your rug as a warm and soft spot for feet to land as soon as you get out of bed in the morning and also as a way to group together your nightstands and bed.
The bedroom does allow for an exception to the rule about having at least the front feet of a furniture piece on the rug. It's perfectly acceptable to have your rug start in front of your nightstands.
---
The Best Rug Resources
Alright, now you're ready to dive into the fun part -- shopping! Below are some of my fav go-to rug places, and I'll tell you why!
$ RUGSUSA - RugsUSA has a huge selection of rugs, ranging from cheap to higher end. I put this in the lower budget category because they're a great source if you're on a budget. What's so great about RugsUSA, other than their variety, is that they have great sales and easy, hassle-free shipping. Use your discretion when purchasing and make sure to look at materials and read reviews.
**Fair warning, if you find rug shopping usually ends in hours of scrolling and uncertainty, go with the next option 👇 because this site is massive and that may leave you feeling at a loss. Sites like this are best when you know exactly what you're looking for and can hone in on it easily.**
$ RUGS DIRECT - I'm very impressed with the new lines from Rug Direct by famous designers. Check out the gorgeous options from Amber Lewis, Becki Owens, and the team at Chris loves Julia.
$ WORLD MARKET - Whether you want a bold pop of color or a neutral beauty, World Market has a great selection of well-priced rugs. This is one of my favorite natural grass rug sources (like sisals)! Their indoor/outdoor rugs are also really nice in person and very well priced!
$ URBAN OUTFITTERS - Mostly they sell what I'd call low-traffic rugs that you could get away with in a bedroom, or other area that generally won't be trodden on with shoes.
$$ CB2 - For modern rugs that are always 'fashion forward' at affordable prices, CB2 can't be beaten.
$$ LULU & GEORGIA - When scrolling through this site I can actually say I have feelings of love for almost every single rug they sell. That's HUGE. That means you can't make a rug-design mistake while shopping on this site! Go!
$$ WEST ELM - High style, good quality, good prices. And ALWAYS watch for sales. West Elm is one of my favorite go-to places to buy rugs and I never ever pay full price.
$$ POTTERY BARN - Similar in quality to West Elm as this is also a William Sonoma Company, but on the more transitional spectrum of style.
$$ DASH AND ALBERT - Also leaning somewhat transitional in style, this brand has excellent quality rugs that will stand the test of time in a rental.
$$$ ANTHROPOLOGIE - If you're looking for a unique statement piece to invest in, shop Anthropologie for rugs. (Or indeed anything home related, really.)
$$$ CAITLIN WILSON - Her site is full of major statement pieces that will be a long-term investment, if that's what you're looking for. Have a look even if you're not because 😍!
$$$ ROOM & BOARD - Ranging from great basics to gorgeous expensive rugs, Room & Board has a lot of beauties. These rugs are on the higher price range, but they're high quality and made to last.
---
Still feel overwhelmed and the rug is just one tiny part of that feeling? Consider taking my Airbnb Design E-course. Let's start at the beginning and I'll walk you through a step-by-step guide to designing your short-term rental property!
Best of luck on your rug hunt!!