Round Up: The Best Coffee & Side Tables for Your Airbnb
Nov 17, 2023
image above: Emily Henderson
Shopping online for furniture for your short-term rental may feel intimidating, and coffee tables and side tables are no exception. Sometimes you may want to touch and feel an object before committing.
Also, there is just SO MUCH out there to choose from. Knowing what websites and brands to trust for quality furniture that will last in a rental can be daunting. And while you want to make sure that what you're buying is good quality, cost is a factor too, right?! You want to spend where it really counts and save where you can.
Make sure to check out this post for my top 10 recommendations for online retailers to use when furnishing your rental. But if it's specifically the best coffee tables and end tables you're after then look no further... In this post, I'm going to tell you everything you need to know about selecting "occasional" tables and show you my pick of the best.
image above: Emily Henderson
Occasional tables, side tables, coffee tables, end tables... Whatever you want to call them, these little accent tables are an excellent place to save some money in your Airbnb. Side tables especially don't need to be as sturdy or hard-wearing as say the sofa, so you can usually get away with spending less in this area and putting your money into those workhorse items that will get more wear and tear from your guests.
That's of course not to say that you should buy "throw away" furniture that will just need to be replaced in a year. It's all about striking the right balance of quality and affordability.
I'm particularly obsessed with #1 below. I've read the reviews and this seems like a solid choice for quality at a great price point, and I LOVE the look.
1. | 2. | 3. | 4. | 5. | 6. | 7. | 8. | 9.
We used this Target beauty in a Myrble Beach property makeover this year and it was so stable and high quality for the price. Also, I LOVE the look and pill shape. It's on the board below with several of my other rectangular faves.
1. | 2. | 3. | 4. | 5. | 6. | 7. | 8. | 9.
Before you start looking too closely coffee table options, you may want to think of the overall style that you're aiming for. And if you're not sure where to start, my style quiz is your friend here!
Once you've narrowed down your style, consider the size of the space you have available for your table and whether your guests are going to spend a lot of time walking past the table. If your table is placed in something of a thoroughfare, you might want to avoid corners and go for a round or oval table.
Size-wise you'll want to balance your coffee table with the other star of your living space... your sofa. (Psst... Look here for my pick of sofas!) Look for a table at least half the length of your sofa, that's the general rule. But remember rules are sometimes meant to be broken, and if you find a great coffee table and it's too "small" cluster it with an ottoman or other side table, like the below example.
above image: Emily Henderson
above image: The James Station Caboose featured on The Quill List
1. | 2. | 3. | 4. | 5. | 6. | 7. | 8. | 9. | 10. | 11. | 12.
In the above picture from a Myrtle Beach Condo Makeover I recently completed, we used this round tall hero from Wayfair. I just saw it's available in other colors too. I'm a big fan of little round tables. 🙋‍♀️ (To read that entire beach condo makeover blog, head to this link.)
And here are some little square and rectangular buddies that also deserve some love.
1. | 2. | 3. | 4. | 5. | 6. | 7. | 8. | 9. | 10. | 11. | 12.
When selecting coffee and side tables, you want them to work together as a style pair. But they don't need to match! A small end table can be a great place to experiment a little or maybe showcase a vintage find.
Here are some examples of fun pairs that can work together!
1. | 2. | 3. | 4. | 5. | 6. | 7. | 8. | 9. | 10. | 11.
Now let's talk a little bit about vintage occasional tables. If a vintage look could work with your design style, I love this for you. Because little wooden vintage stools and tables are just about my favorite things to sprinkle around a space.
I'm like a little wooden table fairy. I LOVE old things, especially old wooden objects, and how they add character to the room.
I recently went to a vintage fair over here in England, aka Val Heaven. It was SO FUN and it's quite addicting foraging around for old things.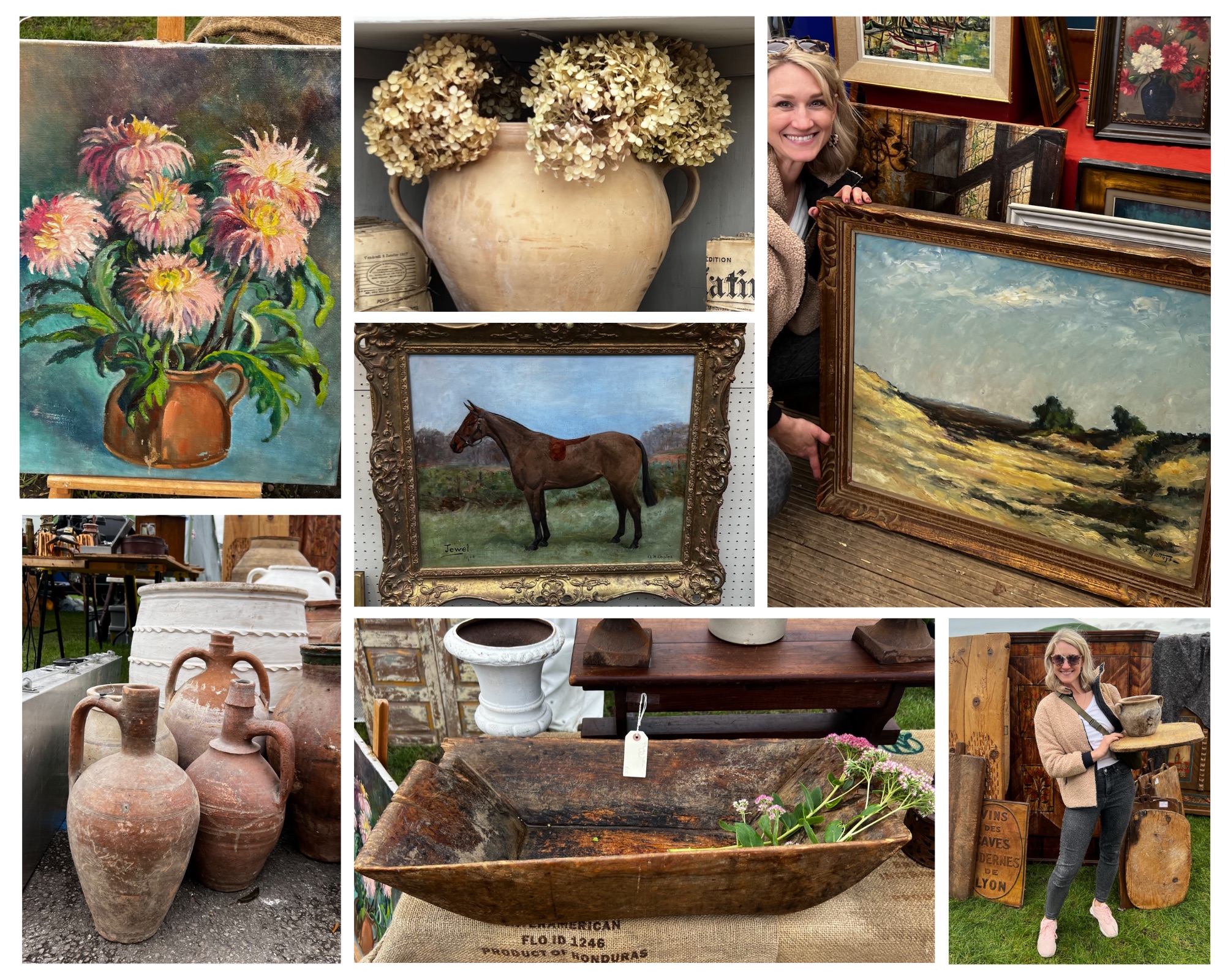 As you can see I got quite a few little wooden treasures mostly for a local project I'm working on!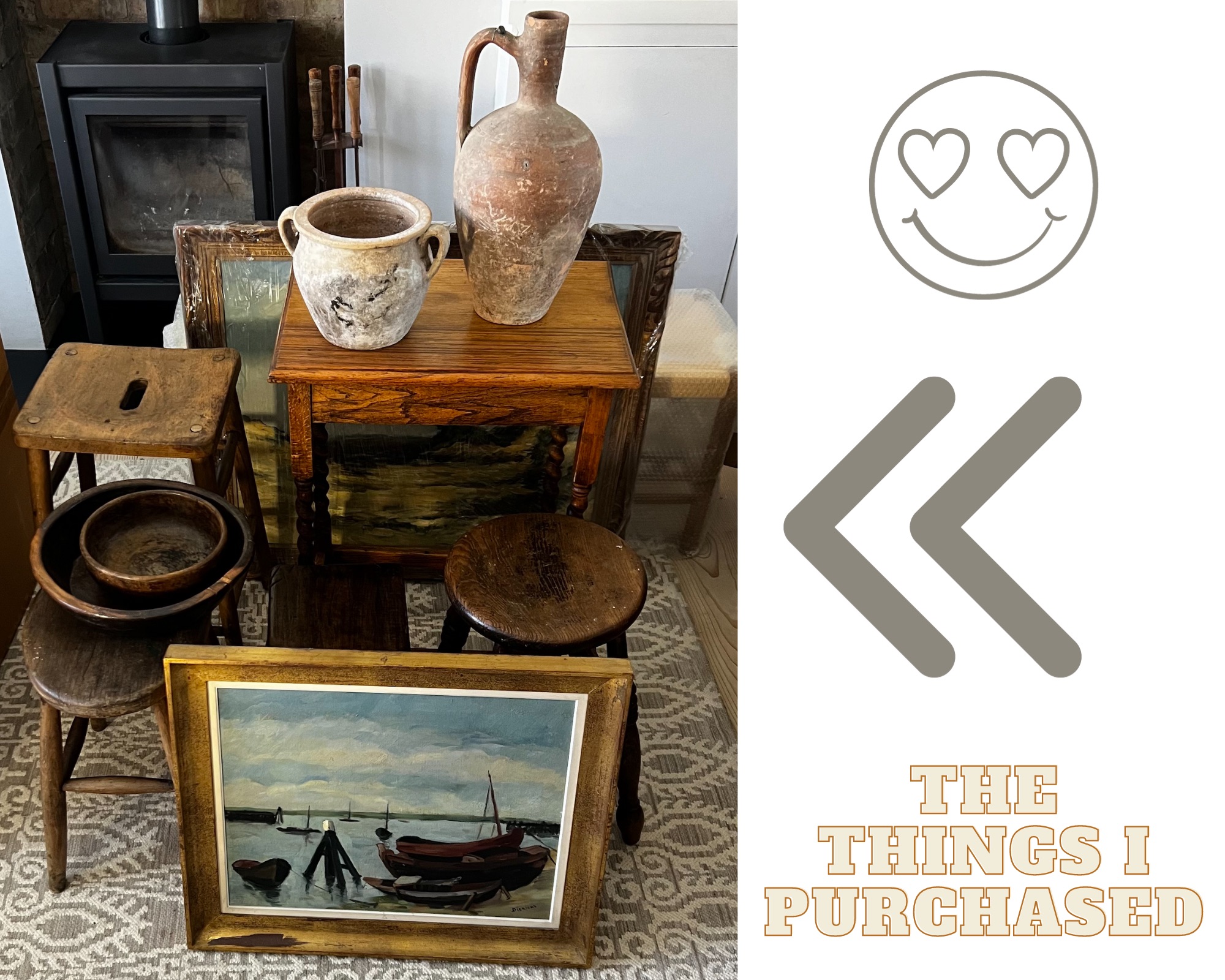 This tall oak table was only £20 (about $30 US). It was the perfect dimensions for my project, so I had it sanded down, restained, and the top straightened out a bit.
I LOVE the bobbin legs on this little guy, and love that we gave new life to an old unloved thing. So all that to say, if you're interested in folding vintage or 2nd hand items into your design, I'm all for that and wholeheartedly support you in your quest. 🤗 And depending on how you do your vintage shopping, this can be a great way to save some money.
Finally, if you have a table with a wooden surface that's susceptible to heat or water damage, it's worth making some nice coasters easily available for your guests to use. I love these little beauties from West Elm, but Target and Homegoods always have a nice affordable selection too.
---
So there you have my guide to choosing the right occasional tables and my quick pick of the best for your budget.
Happy shopping, friends!