Round Up: The Best Sofas for your Airbnb
Feb 24, 2023
When you're selecting furniture for your Airbnb living room, the sofa should be the FIRST item you consider.
It's a really big purchase, and I understand completely that it can feel quite daunting. This item will get a lot of use and abuse from your guests, and you want it to last! Whilst also looking amazing... obvs!
To help on your quest to find the very best sofa for your Airbnb, I've rounded up my top 8 options for you here. These choices represent a variety of different styles that are versatile chameleons, able to slide seamlessly into almost any style genre you choose for your space. What's more... they're great value and excellent quality.
I've also put together a selection of the most popular sofas from the blog. Time and time again, you guys just cannot get enough of these beauties! AND a board of Article's finest because wow. Just, WOW. More on this later.
But before I let you in on my favorites... how do you choose the perfect sofa for your Airbnb?
When it comes to settling on a sofa there is more than just the quality to consider. There is also the style - which is equally important!!
Let's break down the style of the sofa into two categories:
Shape & Material
SHAPE - Selecting a shape will largely depend on the style of your Airbnb.
If you haven't already taken our STYLE QUIZ, do that now, so you have a clear idea of where you're headed with your overall design.
Once you're happy with your style direction, you'll need to find some inspiration within that style. Pinterest is a great place to start for gathering inspiration. Once you start pinning, you'll soon get a feel for which style of sofas you gravitate toward in your inspiration photos. Observe the lines of the piece, the type of arms, skirt, amount of cushions, arm heights, and back heights you like best.
MATERIAL - Because your sofa will see lots of traffic, make sure to choose something that cleans easily like polypropylene, Crypton, or anything that says "performance". Quality velvets and performance wools are great options. It's probably best to stay away from linecottonttons because they could pill and stretch, and are a bit harder to clean. A fabric with some variation, like a ,twill for example, will fewer less stains!
If you have room in your budget for leather, go for it! Vinyls have also come a long way, and some are beautiful, affordable, and easy to clean.
If the seller of your sofa offers a stain guard or cleaning guarantee, DO NOT HESITATE. Sign up for that and be sure to read all the fine print and keep your paperwork handy for when filing a claim may be necessary.
Now Let's talk about SIZE
SIZE - It goes without saying but you need to make sure your sofa is the right size.
Map out the length and width of the perfect size sofa by putting painter'snters tape, or if you have time you could draw your room to scale. You also need to make sure that the arm height, back height, and seat height are a good fit for your space. You may want to go out shopping and sit in some sofas to determine what dimensions and materials feel comfortable for you.
---
Once you're armed with a clear vision of your living room goals and your ideal measurements, then let the shopping begin. Here is my pick of the very best sofas for your Airbnb.
1.All Modern | 2.Article | 3.West Elm | 4.Pottery Barn | 5.Joss&Main | 6.West Elm | 7.Urban Outfitters | 8.Eclectic Goods
---
These guys below get so much love on the blog. And as I know y'all have amazing taste, there can be no higher recommendation than that!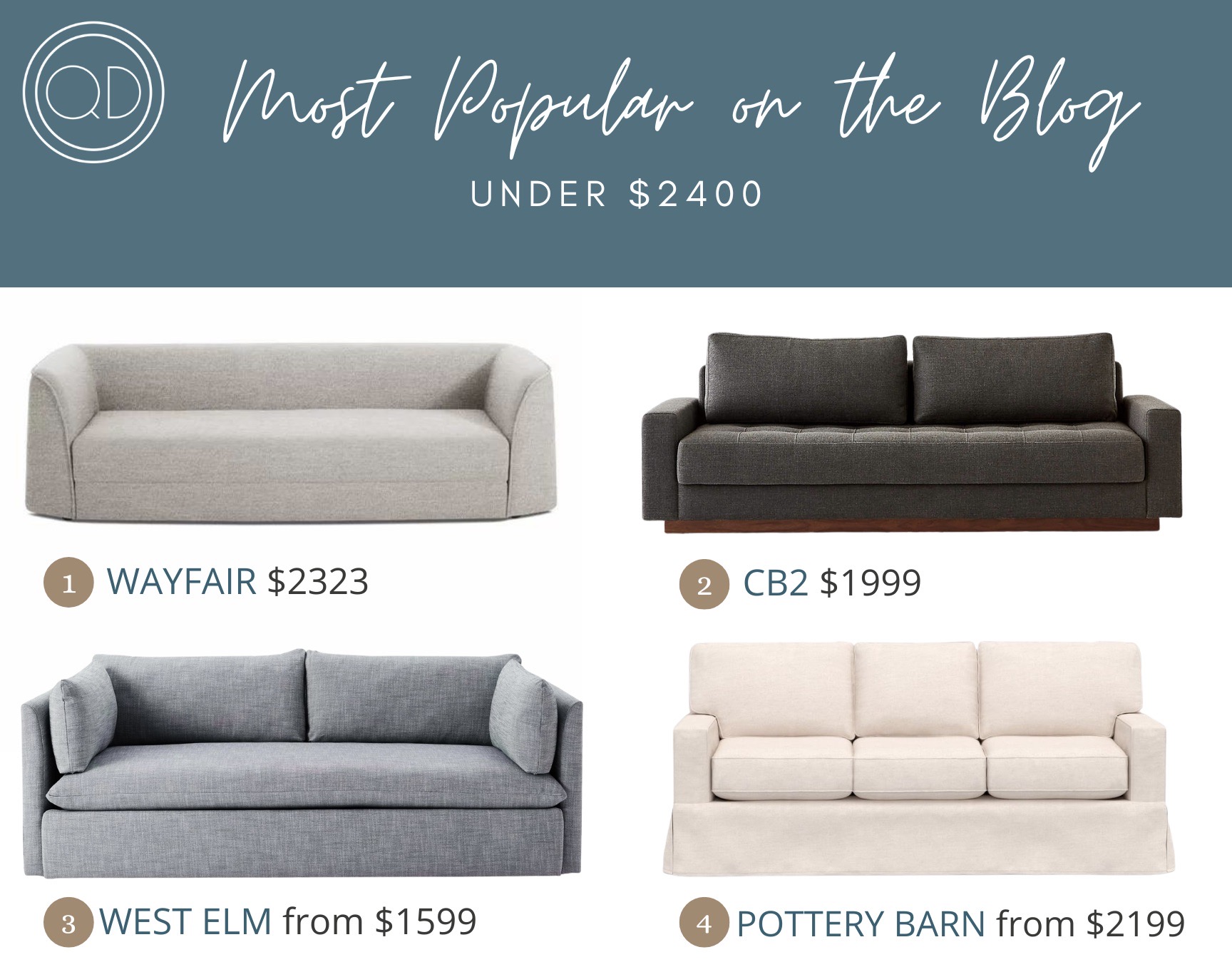 1.Wayfair | 2.CB2 | 3.West Elm | 4.Pottery Barn
---
And last but by no means least, my pick of Article's finest sofa offerings. Whether you know exactly what you're looking for or haven't got a clue, you can't go wrong if you head to the "sofa" section of Article. (Or any other section for that matter!) Seriously, there is just so much goodness on this site!
I had the hardest time narrowing down my selection for the board below, but I can honestly say I would proudly display any of these sofas in my home or a rental. They're amazing quality and value too.
1.Sitka | 2.Sven | 3.Timber | 4.Nordby | 5.Abisko | 6.Anton
Honorable Mention to Albany Park
Albany Park is a new-to-me brand that sells sofas, sectionals, and a nice swivel armchair I have my eye on. What I love: They have ample stock of many of their best sellers with a variety of fabric options. It's also free and fast shipping, a lifetime warranty, and a 30-day in-home trial. Definitely a brand worth checking out!
---
🗝 Where to Save Money
If you have gone r on your sofa budget, which is easy to do, you could always skimp back on your side table budget. Search through vintage shops, antique stores, flea markets, or Home Goods. Feel free to paint, sand, or change the hardware on old side tables to give them a fresh look.
🗝

How to Clean

Always follow the manufacturer's advice regarding cleaning your sofa's fabric. One trick I've learned is that microfiber clothes are your very best friend as an Airbnb owner. Before you try anything else, simply take a clean, damp microfiber cloth to any mark or stain on your sofa. If you've chosen a cleanable and pre-treated fabric, this will likely take care of your stain!
---
Happy Shopping and Happy Hosting!! XO
PS- If you're after a sleeper sofa, head to this blog to see my faves!
---