The Ultimate Ikea Shopping List for Your Airbnb Rental
Mar 10, 2023
✨(To shop this board, head to the bottom of this post!)✨
Ah, Ikea... The mystical Scandi labyrinth of flatpack furniture, unpronounceable names, and meatballs!
Last weekend saw me taking a trip to the home of Swedish interiors and it did not disappoint.
Now, I have many thoughts and feelings about using Ikea in your Airbnb and you can read all about them HERE. (Hint: You can definitely have too much of a good thing!) But there's no denying that Ikea has many great and affordable furniture and interiors options that are a great choice for your Airbnb. So without further ado, here are this interior designer's picks of the very best items to shop at Ikea right now...
---
This first piece needs little introduction. It's a sofa. It's gorgeous. It's affordable. It has great reviews. If you're in need of a sofa for your rental that leans towards a modern style, then this could be a good choice...
image above: Appgaryd by Ikea
I like a beautiful design when I stay in an Airbnb... of course! But I also LOVE when my hosts give some thought to how I'm going to use a space and make my stay as easy as possible. This genius mirror design looks great and also features a hinge opening: hiding hooks and a rail to tidy away those annoying bits and bobs that would otherwise clutter up your surfaces.
image above: Grenvag by Ikea
How cute is this sconce?! It's no secret how strongly I feel about lamps in your Airbnb and this one is the perfect way to add some soft, diffused lighting to a space. It's quite large so make sure to measure before you buy, but as far as sconces go, I'm in love. It's even more impressive in person.
image above: Manalg by Ikea
On the subject of lamps... An anglepoise lamp is a great choice in a vacation rental due to the flexibility it offers your guests and I love the industrial feel of this one. This range also features floor lamps and wall lamps, all very pretty and very affordable.
image above: Ranarp by Ikea
This desk is really beautiful in person. I was quite impressed. It features a sleek, minimalist design in an ash veneer finish. It is narrow enough to be used as a console table in your entryway. It would also be perfect for a small touch-down desk in a bedroom, or wherever you can fit it to offer a designated work area in your rental home. Adding that amenity will get you featured higher in the algorithm on Airbnb.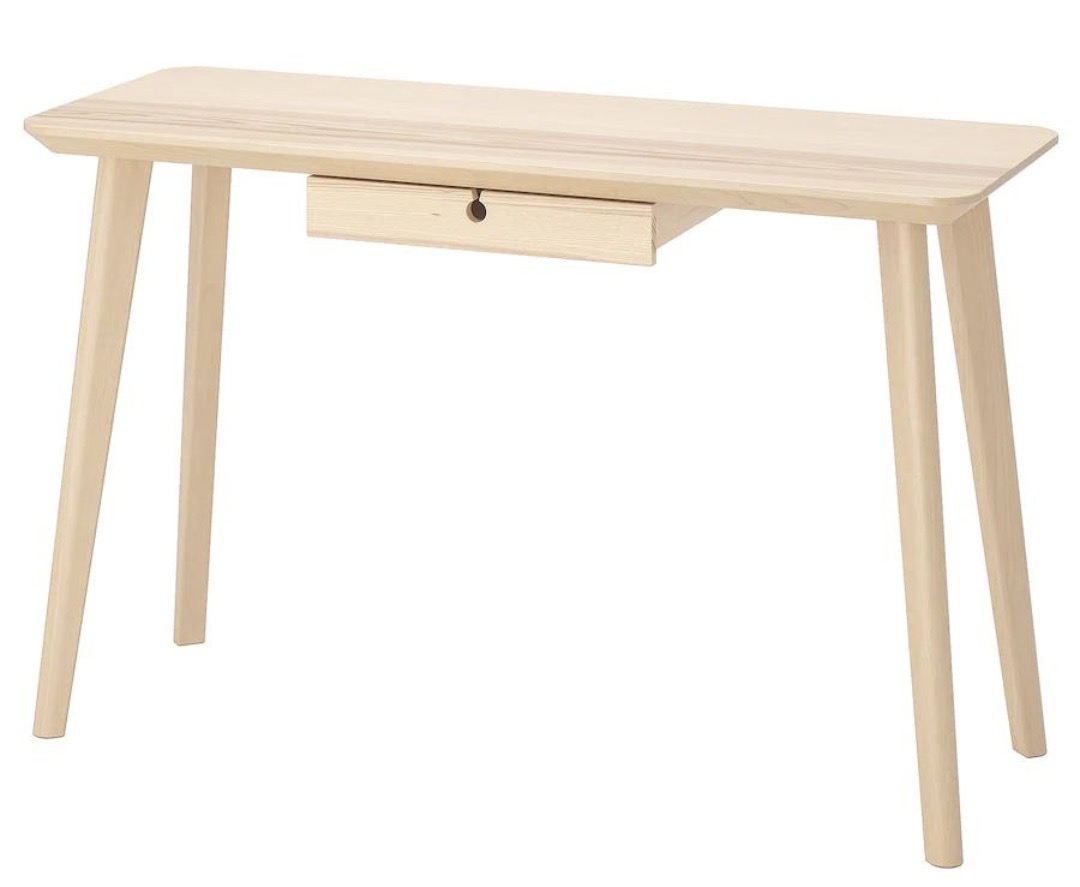 image above: Lisabo by Ikea
Every bathroom needs a bath mat. And in 5 colorways and at only $9.99 you can't go wrong with this little rectangle of feet drying perfection! These little things can add up so it's nice to buy something that feels a nice quality from Ikea and save some money.
image above: Toftbo by Ikea
Sleek design, hard-wearing, and easy to clean? Yes, please! These dining chairs are unapologetically modern and would look amazing set against a vintage dining table or in the corner of a bathroom as a place for your guests to lay their clothes. (Also comes in clear!)
image above: Stein by Ikea
Rattan is a great choice to give a cozy and lived-in feel to a space and this handmade lampshade is just gorgeous in person. I think a cluster of them in a large entry would look amazing, or over a breakfast table.
image above: Torared by Ikea
Speaking of rattan... How I love these little wall hangings! And at $22.99 for a set of the three at the bottom, they're an absolute steal compared to other stores that sell similar ones. We bought those and this mirror for my daughter's room and it looks really lovely. It pleased her little pre-teen heart to no end to impact her space all on her own. (Something her mom has done for her always. She's growing up!! *sniff*)
image above: Gillstad by Ikea
---
If you fancy a few hours (days?!) getting lost in Ikea and stocking up on the best frozen vegan meatballs in the whole wide world, then I'm not about to stop you.
But, if you want to save yourself some time and shop the best bits from the comfort of your sofa so that you can quickly get back to being an amazing, booked-up Airbnb host then shop the board below.
Happy shopping!
---