How to Make your Airbnb Like a Hotel... But Better
Jan 27, 2023
image above: Clayton Hotel Cambridge
It's safe to say that you're aiming for success with your short-term rental business... In this increasingly competitive market, it's so super important to differentiate yourself from the competition.
While of course, I'll argue that design is one of the best ways to make your rental stand out from the crowd, in order to grab not only more but better bookings, there are other things to consider besides just design.
Turns out your competition is not only other short-term rental properties, but also all of the reliable hotels in and around your area.
If you're interested, check out this article which explains how an associate professor of hospitality marketing from Boston University, Makarand Mody, sums up how travelers decide to book an Airbnb versus a hotel.
This article from Fast Company proves that although the vacation rental business is growing, there is still a large majority of people who prefer to stay in hotels when they travel. In this blog post I'm going to show you how to make your Airbnb like a hotel... but better!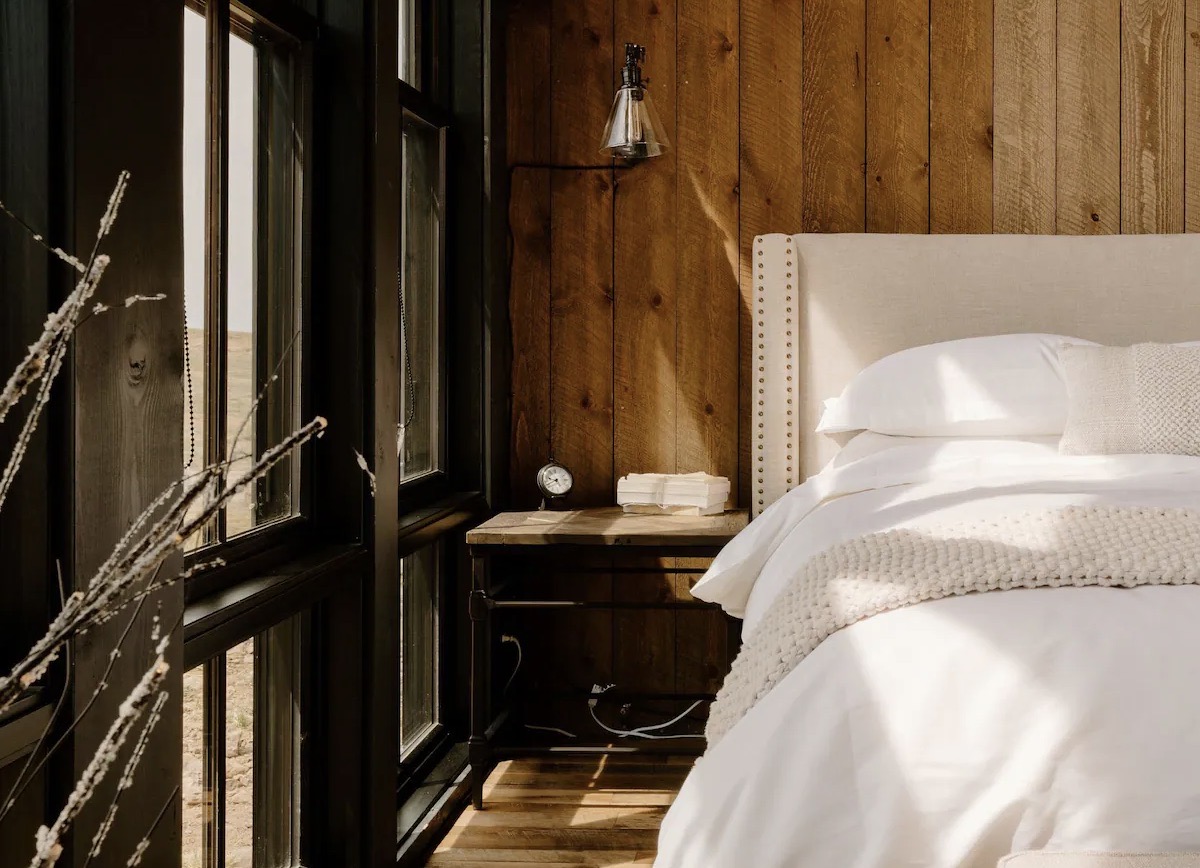 image above: Modern Ranch House
What Hotels Do Well (that you should do too)
Your goal should be to make your rental like a hotel in as many ways as you can, but then also make it even better by going above and beyond.
Predictability is a primary motivation for travelers to choose hotels. There are just no surprises when it comes to certain things like the following:
---
And Now For the BETTER
Okay, we've got our baseline. Now let's talk about the best way to EXCEED your guests' expectations by offering things that hotels don't.
This is the good stuff. The stuff your guests will gush about in your reviews, which will grab the attention of other potential guests.
Space to GATHER - This is one of the main reasons why people choose Airbnb properties over hotels. Make sure that your vacation rental has a space where your guests can put their feet up to relax and unwind in the privacy of their temporary home-from-home. And if you have even the tiniest slice of outdoor space then even better! Take a read of this blog all about how to transform that outdoor space into the ultimate relaxation zone for your guests.
image above: Röra Haus
All Things LOCAL - A nod to the local area is a great way of personalizing your place and making it feel like a home, but avoid putting too much on-the-nose local 'art' into your place. Frame a cool vintage map of the city? Sure! Yes. But take a browse of Airbnbs in Nashville and 8 out of 10 of them have reclaimed wood sign-art above the living room sofa that says "Nashville". It's not different. It's not creative. It's not unique. And you want different, creative, and unique to make your spot stand out from the rest. Let's talk about the good ways to do local.

LOCAL GOODIES

- Find a local bakery in your area that makes yummy treats and figure out if you can offer these consistently. As Genevieve and Peter teach us in Stay Here, this can be a way to build a brand and stand out.

LOCAL ART

- Go with different, unique, truly vintage instead of cookie cutter. Don't strive to be like every other Airbnb in your area, even the cute ones. Strive to be a little bit outside the lines, in the best of ways.

LOCAL DISCOUNTS

- Are there any small businesses in your area that may benefit from your guests frequently buying from their store/shop/salon? Ask the owner if they'd offer your guests a 10% discount if they bring in a business card that you leave in the house. This can become a win-win all around.

PLANTS - Hotels usually don't have these fabulous leafy green accents that are a designer's best friend! Worried about killing a plant? Don't be. Part of owning plants is killing a few. Here's a blog post about the easiest ones to care for in your rental space and how to do it

.

If caring for plants really feels like just too much work, you can fake it with the lovely faux lovelies on the board below. I won't tell if you

won't..!
1. | 2. | 3. | 4. | 5. | 6. | 7. | 8. | 9. | 10 (similar). | 11. | 12. | 13. | 14. | 15. | 16.
SNACKS - Free snacks to start your vacay off on the right foot is a really big deal to some guests (especially if they're traveling with kids!). Offer something for free, even if it's just a few granola bars and a package of your favorite crackers. You don't have to be elaborate. Sometimes simple is just as effective and everyone wins!

A GOOD HAIR DRYER - Not a cheap one -- a good one! Also, while you're at it, throw in a couple of hair towels and maybe even a curling iron! What kind of guests are you hoping to attract for your rental? What would knock their socks off to see when they showed up? Well if you're hosting female groups, THAT. Offer them that. For me, it's a great hair dryer, hair towels, and maybe even a bottle of nice hair spray I've never tried before. And a curling iron would make me weep tears of joy.
SHARP KNIVES - How many times have you seen crappy, cheap, dull knives as the only option in a rental? No! Do things better! You have the ability to change the world, one quality kitchen knife at a time.
CHARITY - If this speaks to you, you could consider donating a portion of your profit to the charity of your guests' choice. My husband and I owned an Airbnb and we always gave our guests the ability to choose from 4 well-known charities to which we'd donate a % of the profit in their name.
---
So there you have it. Your guide to doing what hotels do but doing it even better!
Happy Hosting!! XXX